Cutting Machine For Rebar Splicing
GQ40/GQ50/GQ60 cutting machine for rebar splicing is an ideal equipment for cutting.
It is a special type cutting machine, the incision cut by this machine is round, flat, no U-shape, suitable for threading directly. So it is a matching machine for Rebar Thread Rolling Machine.
Main Features of Rebar Cutting Machine
1. Incision is rounded, straight, non-angular, flat without angle.
2. Adopt splash lubrication, machine parts are lubricated well, it could continuous work two months after adding gear oil one time.
3. Machine structure is upgraded from double reduction to triple reduction, the shear strength is powerful.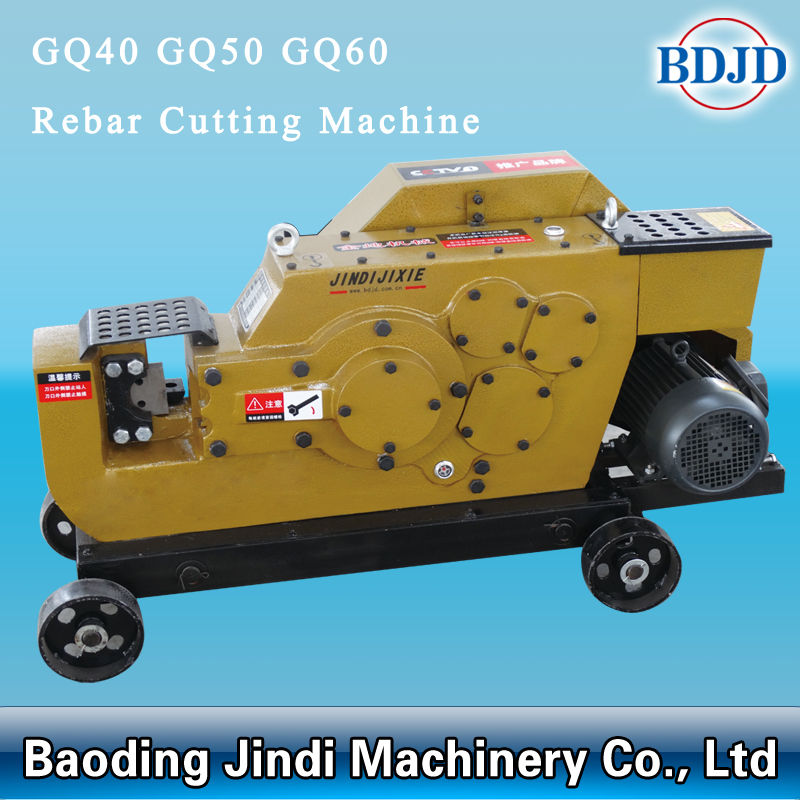 Main Technical Parameter
| | | | |
| --- | --- | --- | --- |
| Model | GQ40 | GQ50 | GQ60 |
| Voltage | 3-380V-50HZ | 3-380V-50HZ | 3-380V-50HZ |
| Motor Power | 3.0KW | 4.0KW | 5.5KW |
| Motor Speed | 2880r/min | 2880r/min | 2880r/min |
| Punching Frequency | 32times/min | 32times/min | 27times/min |
| Cutting Nominal Stroke | 34mm | 34mm | 44mm |
| Cutting Common Carbon Steel | ≤Φ32mm | ≤Φ40mm | ≤Φ50mm |
| Cutting Deformed Bar | 14-28mm | 14-32mm | 16-40mm |
| Cutting Max Flat Steel | 70*15mm | 85*16mm | 90*18mm |
| Cutting Max Square Steel | 32*32mm | 40*40mm | 50*50mm |
| Cutting Max Angle Steel | 50*50mm | 63*63mm | 75*75mm |
| Weight(kg) | 430±5 | 530±5 | 800±5 |
| Dimension(mm) | 1280*460*720 | 1440*500*740 | 1470*550*875 |