Machine Function
It is mainly applied to peel rebar rib first, then roll parallel thread on rebar end, after that, two threaded rebar sectors could be connected by coupler. It is a necessary machine for rebar joint.
In addition, it is also applied to roll threads on round steel bar, anchor rod, or other equivalent materials.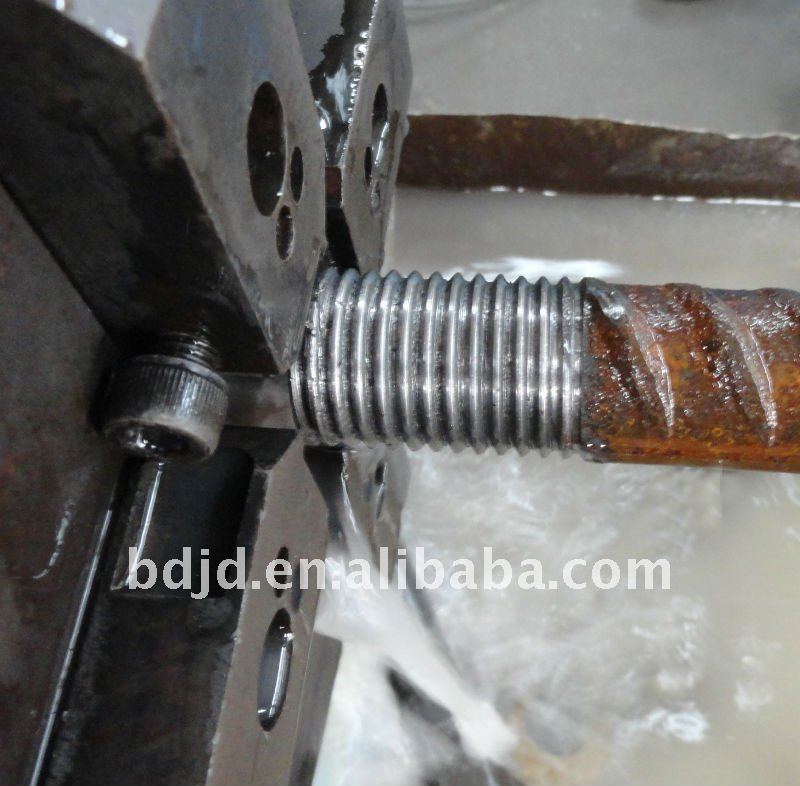 Machine Advantages
1. Both right-handed threads & left-handed threads could be processed with one machine head.
2. Simple operation, reducing workers' labor intensity.
3. Shortening construction period.High processing speed and production efficiency.
Machine Spare Parts
Roller (one set has three pieces),
Blade(one set has four pieces),
Eccentric Shaft(one set has three pieces).
Machine Model: JBG-40K, JBG-40D, JBG-40E, JBG-40F, JBG-50.
Machine Parameters
Model

JBG-40K

Suitable For Rebar Diameter

14mm-40mm

MAX Thread Length

70mm

Roller Thread Angle

60°/ 75°

Roller Thread Pitch

(mm)

2.5mm for rebar diameter 14mm-22mm;
3.0mm for rebar diameter 25mm-32mm;
3.5mm for rebar diameter 36mm-40mm.

Rated Power

4.04KW

Rated Current

8.46A

Electrics

AC 3P/N/PE 380V 50Hz

Rotated Speed

40-62r/min

Dimension L*W*H

1200mm*600mm*1300mm

G/W

440kg

Processing Capability

It takes 30-40 seconds to finish one rebar thread sector.

It can make 800-1000 pcs every day / one machine.



Roller Thread Pitch (p=mm) and Rebar Specification
p=2/p=2.5 Φ12-Φ22
p=2.5/p=3 Φ25-Φ32
p=3/p=3.5 Φ36-Φ40
Remark 1)60°,75°thread angle free to chose.
2)Rollers Dimension could be customized.
Machine Package
· Iron Frame, 50KG, 1.4CBM(130cm*85cm*125cm)
· Wooden Case, 100kg, 1.7CBM (140cm*90cm*130cm)
Brife introduction
JBG-40K is designed for processing parallel threads for rebar mechanical connection in construction. It can process HRB335,HRB400, HR500hot rolled ribbed reinforced bar with diameter 14-40mm. It uses larger machine rac which makes machinemore stable. It adopes famous brander reducer, the machine performance is more superior. It also adopes patented design which aliminates the problem that the rebar thread often becomes bigger, and that the stripping head automatically open.
JBG-40KI , as updated type of JBG-40K, is our new product developed in 2013. It adds the screw pitch angle mechanism. It is easier t operate, the thread precision is more highr, the conical degree is more smaller, and the thread surface is more smooth.
Machine processing